Top on the talk agenda in the Town of Mammoth Lakes the police department and allegations of unethical and even criminal behaviors. As the man who sets the tone for his department, Police Chief Randy Schienle has taken repeated criticism for his lack of support for the bear program, alleged sexual indiscretions and an alleged cover-up of officers in fist fights. Three investigations are underway, including the Mono County Grand Jury.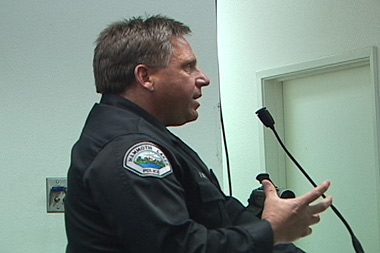 In a press release to all local media, Chief Schienle says with all the information that has been swirling about the Mammoth Lakes Community surrounding the operations of the Mammoth Lakes Police Department, I have scheduled a press conference.
The conference will take place in front of the police department on Tuesday from 4 to 5pm. Chief Schienle says in the release that he will read a prepared statement addressing the recent investigations and sharing what information with the media and the public that he can. He says that some information is confidential and can not be discussed.
The Chief said he would also make the podium available for others who may wish to speak, followed by a time for questions.