After a series of burglaries at the Bigwood Condos in Mammoth Lakes, police followed up on evidence in one particular case and arrested a Mammoth Lakes man.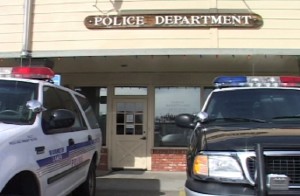 Police Officer Jesse Gorham said that the method of break-ins in all three burglaries at the condo complex were similar. Police said they arrested condo employee, Brian Rondini, 34 of Mammoth Lakes in connection with one of the burglaries. Officer Gorham said Rondini had access to keys to units there.
Gorham said he believes Rondini entered condo units and took small items not noticed by the occupants – small amounts of cash and a wine bottle. In the third break-in, police said Rondini took an ATM debit card and used it. The owner of the card notified police.
Officer Gorham said Rondini has been convicted of burglary previously in Mono County. We also learned that there is a man of the same name, Brian Rondini, same general age and a Mono County resident posted on the Attorney General's Megan's Law website as a sex offender. The site lists the offense of this individual as code section m647.6(a), to annoy or molest a child.
Mammoth Police are continuing to investigate the possible connection of the ATM card burglary with earlier burglaries in the Big Wood condo complex.