Through arguments of community benefit and letting the developer off the hook, Four Mammoth Planning Commissioners finally voted to approve the Snowcreek 20-year Development Agreement. Now it goes to the Town Council.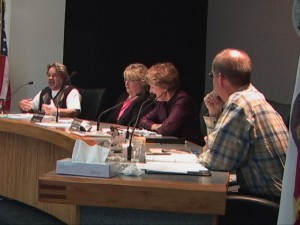 Earlier, Mammoth officials agreed to lower Developer Impact Fees to encourage more development in Town as the economy began to tank. Now, the Town Council race has raised the issue to the level of political wrangling. Kirk Stapp appeared at the Planning Commission meeting Wednesday to criticize Snowcreek's community benefit offered to the Town as part of the Development Agreement. Stapp pointed out that the $10 million community contribution from Snowcreek would not go to the Town up front, but as building occurs. The money would have to be spent in the area of Snowcreek development and the $10 million would not be subject to cost of living adjustments.
Stapp also objected to Snowcreek's proposal to reduce its affordable housing fee from $209,000 per affordable housing unit to $80,000. Stapp maintained that the Town would lose $6.3 million in housing mitigation fees. Planning Commissioner Tony Barrett is also a Town Council candidate but did not couch the issue in political terms.
Barrett pointed to Snowcreek Developer Chuck Lande's agreement to use local contractors on his projects. Barrett said the process of a Development Agreement is about negotiating – give and take. He said that he had worked with Lande to add more than a dozen additional Community Benefits.
Some commissioners insisted on cost of living adjustments to the Snowcreek $10 million. Kirk Stapp and Bill Taylor, via letter, brought up past Development Agreements and what they contained. Commissioner Barrett called the Snowcreek vote perhaps the most important the commissioners would make. He pointed to weaknesses in past Development Agreements like no parking in the Intrawest Village and flaws in the Hot Creek Development that led to the big lawsuit.
Finally Elizabeth Tenney moved to approve the Agreement. Jay Deinken seconded the motion and it passed with Sharon Clark voting no and Rhonda Duggan, Elizabeth Tenney, Jay Deinken and Tony Barrett voting yes.
The Agreement goes to the Town Council June 16th.