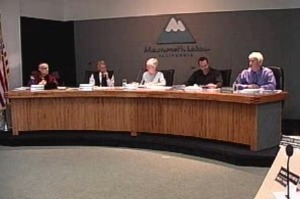 Town of Mammoth Lakes officials have continued to say they want to involve the public in discussions over government money problems, including the $43 million MLLA debt, but to many it doesn't feel that way.  Starting this week, officials say they will try to change the dynamic of public communication.
To start with, the Mammoth Town Council will go into yet one more closed session that is scheduled for Tuesday at 4pm in Suite Z.  It's the only item on the agenda which says the session is for a conference with legal counsel over anticipated litigation and initiation of one case of litigation. The Council has another closed session Wednesday at 4pm on labor negotiations.
Late last week, the Town issued a press release to invite the community to participate in discussions on Town finances and the MLLA judgment.  The release says the next public meeting on these issues will take place during the regular Town Council meeting Wednesday night with another discussion on May 8th.
Assistant Town Manager Marianna Marysheva-Martinez said that the Town plans to engage the community in the discussion of how to balance a $3 million budget deficit next fiscal year and how to generate funds to pay MLLA and other creditors.  Town officials say they want to know which services are most important to the public and which services are needed to maintain Mammoth as a resort town.
Mammoth's money situation is critical, and most imagine major cuts or more taxes will have to happen to maintain the local government.
Also on Wednesday night's Town Council agenda – Fire Chief Brent Harper will talk about fuels reduction programs.  John Helm of Eastern Sierra Transit Authority will talk to the Council about the Reds Meadow Shuttle and talks with Mammoth Mountain about taking over bus service in Mammoth.  The item on Town finances and the budget crisis is the last item on the agenda.