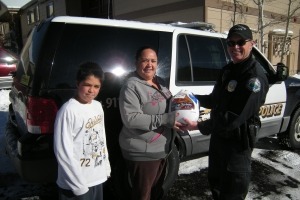 According to Officer Paul Robles, President of the Mammoth Lakes Police Officers Association, on Monday, November 21, 2011, the Mammoth Lakes Police Officer's Association (MLPOA) spread some thanks by giving away 30 Thanksgiving Turkeys to local families.
Robles said that the MLPOA thinks "it's important to give back to the community we serve.  We often only deal with the negative aspects of police work, and it's great to see the faces on these families when we hand them a turkey and wish them a great holiday.  It's very rewarding not just for the officers, but for the families involved as well."
This is the second year the MLPOA has done their Turkey give-away.