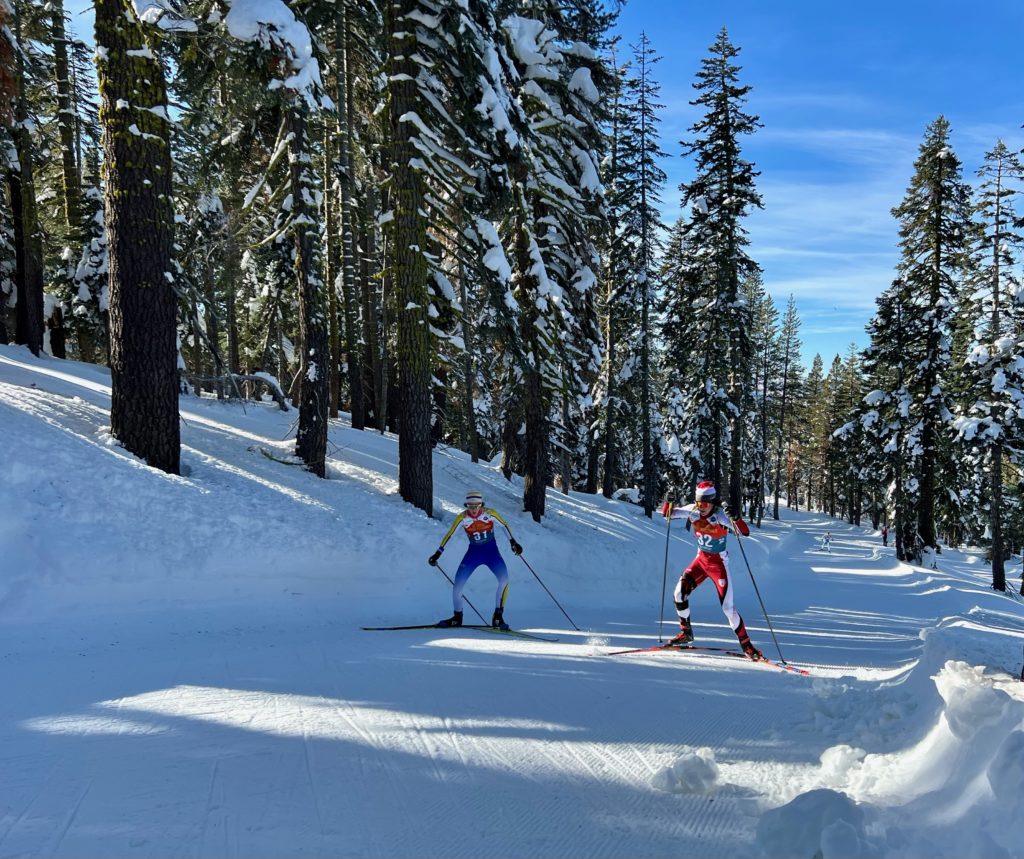 Full sunshine and cold temperatures prevailed as the Mammoth Nordic Race Team competed in the season's first competition over the weekend of December 17-18. Two events were held at
Auburn Ski Club, which hosted the Junior National Qualifier and U-14 and under races.
Attending clubs were Tahoe XC, Sugar Bowl Academy, Auburn Ski Club, and Mammoth Nordic.
The weekend began with Saturday's classic technique sprint qualifier and heats. Good grip and
greasy glide were the key to fast qualification times. Mammoth skiers duked it out on the
intimidating Oslo Hill in the heats, with Cabot Godoy finishing 2nd in the B Final and Dane Karch 4th in the A Final. The rest of the Mammoth team stacked up like this at the end of the day: Ella Walker in 9th for the girls, for the boys: Mason Georgeson 10th, Wade Perry 13th, Owen Czeschin 15th, Jack Leonard 19th, and in the U14 and under, Theo Clark in 9th.
On Sunday, the classic skis were put away, and skate skis brushed and polished for the 5K
event. Racers were challenged by a fast, but challenging loop, with all of Auburn Ski Club's
toughest climbs included. After a series of leg burning climbs, the racers were treated to a fast
descent with a wicked right hander. The day belonged to Mammoth's Dane Karch, who posted
the fastest time of the day in 12:10. Teammate Cabot Godoy followed in 2nd in 12:27.
Wade Perry was 7th in 13:21, Owen Czeschin 11th in 13:45, Mason Georgeson 13th in 13:50,
and Jack Leonard 15th in 13:54. On the women's side, Ella Walker represented Mammoth in
11th (16:24).
In the U14 and under 3K boys event, Theo Clark, in his first ever race, finished 14th in 13:48.
The plentiful November and December snowfall in Mammoth provided lots of opportunity for
solid race preparation this year. According to Head Coach BenHiggins, early snow this year led
to great local skiing, and quality training sessions. The team really took to the opportunity, and it paid off in their skiing this weekend. Up and down the roster the athletes were put together, kep their feet under themselves, and skied with confidence.
Next up for Mammoth Nordic racers are Senior Nationals in Houghton, MI for Karch and Godoy, while the rest of the team prepares for January JNQ's and high school and middle school league races.