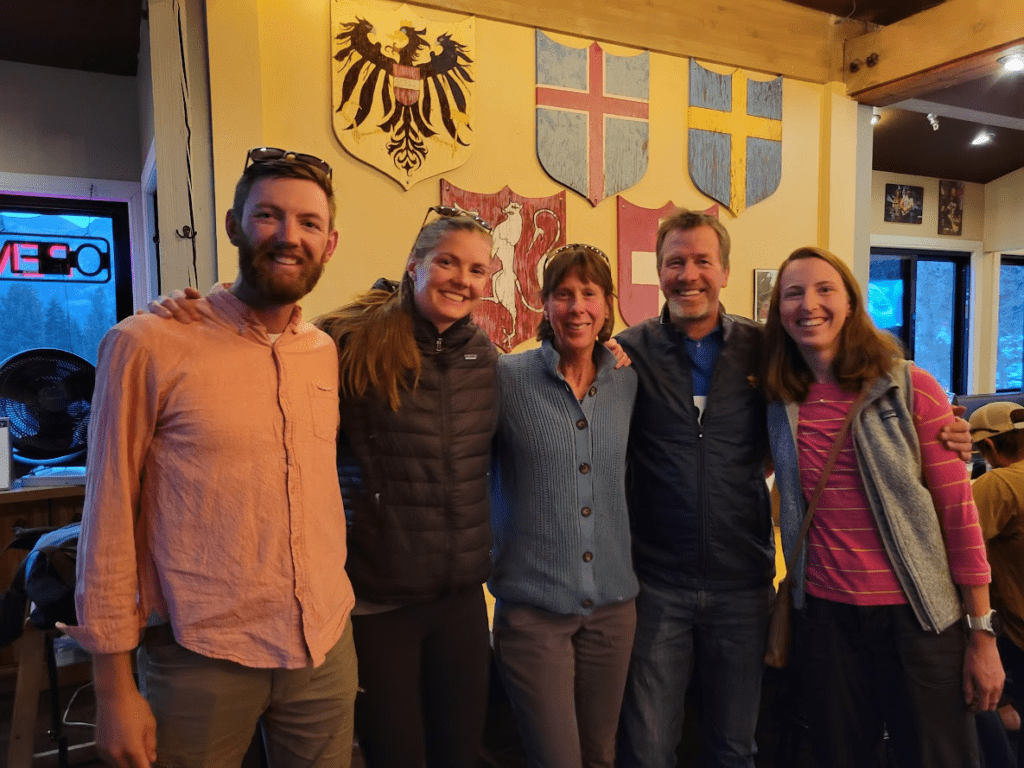 With snow on the ground, the cross-country race season is just around the corner. Summer and
fall dry land training are in the books, and the local junior skiers are starting to log their early
season kilometers. The winter season for Mammoth Nordic Competition and Development
teams kicks off with a Junior National Qualifier on December 17-18. The Mammoth High School and Middle School teams begin their competition season in January.
Behind all of this activity are the Mammoth Nordic and High School and Middle School coaches.  Here is a quick introduction to the trainers, technicians, planners, waxers, and entertainers who work with our local cross-country juniors.
Head Coach Ben Higgins, originally from New Hampshire, is going into his fourth year coaching in Mammoth. Higgins leads the Mammoth Nordic (club) summer and fall programs, which includes roller skiing, running, strength training, and high Sierra hikes. In the winter, Higgins manages the practice schedule and coaches at all high school, middle school, and Junior National qualifiers. He will also attend USSS National Championships in Houghton, MI in January and USSS Junior Nationals in Fairbanks, AK, where he hopes some of our Mammoth racers will be competing.
Higgins is assisted by a new Mammoth coach, Laurel Fiddler. Fiddler grew up cross-country
skiing at Tamarack and is a veteran of the Gliders, Ski PE, Middle School, and High School
teams. After high school and 6 years competing at Junior Nationals, Fiddler raced in the eastern circuit of Division I skiing for Bates College. She most recently was Head Coach at Gould Academy in Maine.
Heading up the Middle School team is Kathi Kirkeby. Kirkeby will be heading into her seventh
season coaching, and like Fiddler, grew up skiing in Mammoth. Kirkeby, a kindergarten teacher
at Mammoth Elementary, is an alumni of the Mammoth High School Nordic Ski Team and has
competed in the Junior Nationals.
Jeff Byberg will once again fill the position of Mammoth High School coach. He is heading into
his fifth season with the Mammoth Huskies. Byberg, along with Higgins led the high school
boy's team to a State Championship win last season, and is looking for a repeat again this
season. Byberg gets the "nice coach" award with his infectious smile and sense of humor.
Rounding out the coaching team is perennial Mammoth coach, Nancy Fiddler. Fiddler has been
sharing her love of skiing and experience as a 14 time National Champion and 2 time Olympian
since 1993, when she founded the first Mammoth Nordic teams. Fiddler anchors the versatile
and seasoned staff during the winter season. She also serves as the official leader of the
popular team summer adventures in the mountains. While Fiddler knows that not every kid she
coaches will make it to the World Cup, she hopes to create life-long skiers.
For information about learning more or joining the team, contact Coach Ben Higgins
[email protected]