Mammoth's Bag Lady Recognized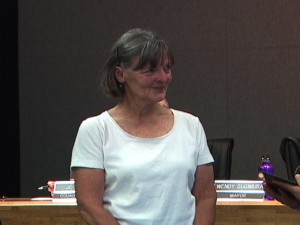 Mary Canada, the self-proclaimed "Old Mammoth Road Bag Lady," because of her efforts to clean up trash in town will leave Mammoth to enter the Peace Corps and will not return until 2011. The Town of Mammoth Lakes honored this long-time local at the May 20 Town Council meeting. They presented Canada with a plaque and thanked her for being such an active member of the community. Canada served on the Sierra Business Council for eight years, and she stated that she hopes to see a lot of collaborative planning when she returns to Mammoth in two years.
Snowcreek VIII Moves Ahead
The only development in Mammoth that is still inching forward in these tough economic times, Snowcreek VIII, received a nothing tiny push forward at the May 20 Town Council meeting. Council accepted the Snowcreek Development Agreement Application, and also approved allowing the Tourism and Recreation Commission to review the project's Master Plan. Comments on the Master Plan will be collected and discussed at the June 10 Planning Commission meeting.
Old Library Put to Use
The Town Council approved an amendment to the Ground Lease in order to use the old library site for Early Start and Mammoth Lakes Parent Pre-school programs. A use permit will be required before final approval is granted.
Lake Mary Road Bike Path
Lack of funding has forced the Town of Mammoth Lakes to confine construction of the Lake Mary Road Bike Path this summer to the portion that they can afford. Therefore, residents and visitors should only expect to see the portion of the path from Minaret Road to the Twin Lakes Bridge completed by fall 2009. Construction on the upper half of the path is expected to resume in the summer of 2010.
Road Improvement Confusion
A discussion regarding the South Main Frontage Road Improvement Project was continued to the June 3 Town Council meeting when it became clear that the Council, as well as the public, were confused by the numbers in the project. According to Town staff, continuing with this project will add an additional $600,000 deficit to the already negative $347,000 Developer Impact Fee account. However, not continuing the project would mean that the Town would have to return some grant funding, which may have greater impacts than debt.