Rafters to Reopen –
Jim Demetriades, owner of the Old Mammoth Place property where the old Rafters restaurant currently sits vacant, plans to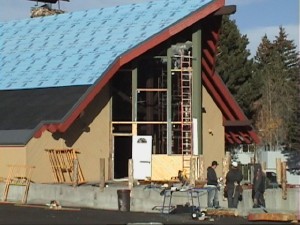 revitalize and reopen the restaurant under the original name. Demetriades plans to hold a block party once he obtains all the permits for the building. Food and beverages will be his treat and he hopes many people will attend to share their stories of the old Rafters.
Recreation Reorganization takes a Steady Pace –
With a budget crisis not bearing down on them so intensely, the Recreation Reorganization Steering Committee is taking more time to determine what recreation will look like in Mammoth's future. The Committee did present a recreation plan to Town Council on November 18 that they hope will be the basis of recreation going forward. The plan begins to define recreation, keeping in mind a regional organization.
Development Fees to Change in Mammoth –
Mammoth Lakes Town Council approved the interim Developer Impact Fees and Housing Mitigation Fees that the Community Facilities Funding Committee, Town staff and consultant Walter Kieser had come up with but sent several comments and suggestion back to the Committee to review as they develop the workplan for implementation of these new fee structures.
Public to Get Five Minutes Back –
Mayor Neil McCarroll finally relented to requests from the public to change public comment time back to five minutes from the three minutes he had instated last June. McCarroll had shortened the public speaking time in order to try and maintain more control over the length of Town Council meetings as a whole. McCarroll has stated many times that he does not feel Council is effective after 10 p.m. and has made it is personal goal while serving as Mayor to try and shave off time wherever he can. His fellow Council members felt, however, that members of the public should be allowed five minutes, but that Council should more consistently enforce those five minutes and cut speakers off when their time is up.