BEARS AND OLYMPIANS
Mayor Pro Tem John Eastman told Town staff that he would like to see the Town give more recognition to locals who are garnering world-wide attention for Mammoth Lakes, i.e. people such as Meb Keflezighi who won the New York Marathon. Eastman said he would like to start by adding an agenda item to the Feb. 17 Town Council meeting to discuss preparing the town for being on display in future episodes of Animal Planet's "The Bear Whisperer." "We need to take advantage of opportunities like these," Eastman said.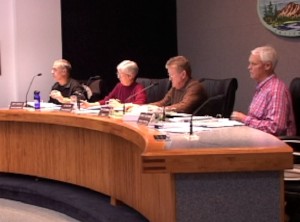 Eastman also asked that Mammoth Community Water District Board member Earl Henderson's concerns about the local water reduction ordinance be put on the agenda for the next meeting. According to Henderson, MCWD had already met their reduction goal, but he did not feel the Town and MCWD were coordinating to fully implement the ordinance. Eastman felt it should be an item on the agenda so that Council could hear Town staff's side of things as well.
DONT FEED OUR BEARS
Mammoth Lakes' citizen Elizabeth Tenney spoke at the Feb. 3 Town Council meeting and asked that the Council consider strengthening the Town ordinance against feeding wildlife. Currently, the first citation only costs the offender $25. With the rash of wildlife feedings over the past year, Tenney believed the fine needed to be upped. Councilman Skip Harvey assured Tenney that the Wildlife Subcommittee had been discussing the same topic and was hoping to get the ordinance amended.
MORE MANAGEABLE NUMBER
The Mammoth Lakes Town Council approved the reorganization and shrinking of the Town's Mobility Commission at the Feb. 3 meeting. Instead of seven commissioners, the body will now only seat five. Public Works Director Ray Jarvis pointed out that the Commission already had one vacant seat, and some of the other members could not attend regularly, causing several meetings to be canceled because of a lack of quorum. Reducing the Commission to five members is expected to alleviate the problem. Mammoth Mountain Ski Area, Mono County, the Mammoth Lakes Chamber of Commerce, and Mammoth Lakes Housing are all still expected to be represented on the Commission after the reduction is completed.
CERTAINTY ABOUT UNCERTAINTY
The Mammoth Lakes Town Council approved two options for the Reserve for Economic Uncertainty replenishment policy. They agreed that any actual surplus in years where revenues exceed expenditures should be used to replenish the REU if it is below the 25 percent funding target. They also agreed to establish a target for gradually replenishing the REU over a reasonable amount of time until the 25 percent funding target is achieved. Council directed staff to put these two items into effect immediately, which means the $90,000 surplus the Town realized from the 2008/09 fiscal year should be put into the REU.