State Special Election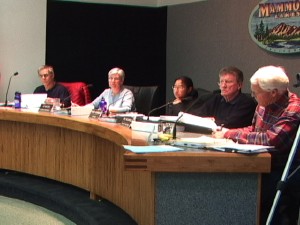 Mono County Clerk Lynda Roberts announced at the April 15 Mammoth Lakes Town Council meeting that there will be a Special Election on May 19. She expressed that three poll workers were needed and asked for anyone interested to call her at 760-932-5537. Poll workers are now compensated $8.50 per hour.
Citizen Budget Oversight Committee
Council approved the formation of a Citizen Budget Oversight Committee. Members of the public who are interested are asked to contact a councilmember for more information.
Support for IRWMP
The Town Council unanimously approved supporting the Inyo Mono Integrated Regional Water Management Planning Effort. This support also means that the Town of Mammoth will be a signatory on the IRWMP's Memorandum of Understanding.
Cab Compliance
Two years after his original complaint, Mammoth Taxi's Scottie Marzonie is finally beginning to see a level playing field with business competitor Mammoth Cabs. Marzonie brought to the Town's attention that Mammoth Cabs was not in compliance with the Town's codes. Over the past month Mammoth Lakes Police Department's Lieutenant Jim Short has been working with both cab companies and reported to Council that everyone was now working toward full compliance.
More Green in Next Year's Budget
Council approved the recommendations in the Impact Mitigation and Resource Conservation Ad Hoc Committee's report. The Committee was formed last year to address resource conservation and impact mitigation strategies and initiatives, particularly with respect to green building and green technologies. The Committee's report will be considered in next year's budget development and workflow programs.
Abandoned Buildings Divide Council
Mayor Wendy Sugimura and Councilman John Eastman voted against more stringent requirements for nuisance abatement in the FY 2009/10 budget development, citing that with the staffing levels the Town is at, they want to be realistic in what can actually be accomplished in this arena. The issue will brought forward in upcoming budget discussions.