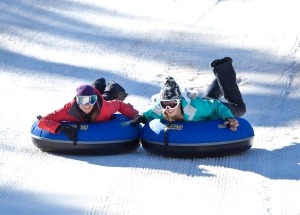 From Mammoth Lakes, news on child care for visitors and a new tube park and play area.
First, child care.  Mammoth Mountain has announced a new service that provides child care for ages 2 through 6 in a state-licensed facility with trained professionals.  The Mountain assures that the professionals are educated in the field of child development and have gone through background checks.  The new Mammoth Mountain Child Care facility is within walking distance of lodging in The Village.  This is specially designed for visitors.
The Mountain says child care will include daily activities indoors and out.  Ski lessons will be offered to kids 3 through 6.  The facility also offers evening babysitting with more activities.
More from the Mountain – today, you can try out the new Tube Park and snow play area.  They call it Woolly's Adventure Summit.  Just head up Minaret, and you will see the tube park and play area on the right about half way to the Main Lodge.  Enjoy hot cocoa, music and face painting today.
The adventure Summit was scheduled to open today at 10 am with a grand opening celebration at 4pm.  The facility remains open until 8pm  Check it out.