With snow continuing to fall here in the Eastern Sierra, what appeared to be a normal year for snow in the high country has started to inch toward record levels.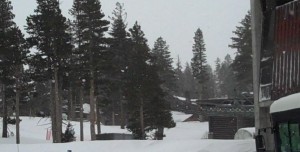 Forecaster Dennis Mattinson reports that the 547 inches of snowfall at Mammoth Mountain puts this season at the third largest snowfall in the past 40 years. The legendary winter of 1968-69 no longer makes the 40 year cut off, so this season was beat out by the back to back epic winters of this century, when 570 inches of snow fell at Mammoth Mountain in 2004-2005, and 578 inches came down in 05-06.
According to the Mammoth Mountain Ski Area snowfall totals, this year even beat out the big El Nino season in 1982-83 by about a half of an inch.
When it comes to water content of the snow, in a normal year the snowpack starts to decline in April according to the DWP website, but in some years such as this one, the snow pack has continued to grow past April first. The 46.6 inches of water content listed at Mammoth Pass is 107% of normal for the season as of April 1st and 188% of normal for this time of year.
Mattinson says that usually high pressure moves into the region by May, but this year, the spring has been marked by unseasonably long lasting, long wave troughs off the west coast. These storms continue to come from Alaska, something Mattinson says is, kind of odd, and have led to cooler than normal spring temperatures. Mattinson says that temperatures should warm up this weekend, but adds that models are showing another long wave trough set to park off the coast next Tuesday that may bring more winter weather to the Eastern Sierra.