With a high snow level, the recent storms left a considerable amount of the white stuff at the 11,053-foot summit of Mammoth Mountain. Once the skies cleared up and employees could get a look at conditions at the summit, they decided to open the top this Friday.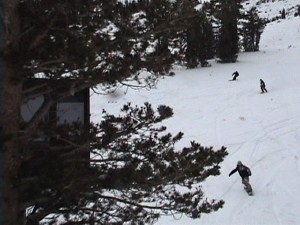 Joani Lynch, Communications Director at the Ski Area reports that the recent winter storm dumped up to 5 feet of snow at the top of Mammoth Mountain, the highest ski resort in California. The storm carried massive precipitation, she writes, and high snow levels, leaving a thick blanket of snow on some of Mammoths most popular terrain.
The Upper Panorama Gondola will open for the season Friday morning and all trails will be accessible from the top. Experts favorites like Daves Run, Cornice Bowl and Scottys all have good coverage and 3-5 feet of variable, wind packed snow.
(Photo: Cleland Hoff) Bill Cockroft, Mammoths Senior Vice President of Operations, has called this the best opening of the top in years.
Mammoth will open Facelift Express (Chair 3) and Discovery Chair (Chair 11) for the weekend. Mammoth was the first ski resort in California to open when the lifts fired up Monday, ten days before the scheduled opener.