More on Rusty Gregory's trip back to Washington, D.C. Gregory said he spoke with representatives of Congressman Buck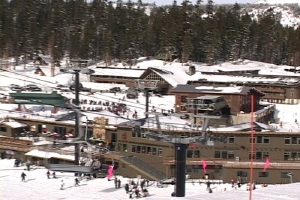 McKeon and Senator Diane Feinstein and other officials about legislation that would spell out the land trade process for Mammoth to acquire the property under the Main Lodge.
Gregory said the land trade is at the stage for an agreement to initiate to be signed. The process will take a year or two, and once the Ski Area has ownership of the Main Lodge land, Gregory said that will mean a re-build of the lodge.
He said the project will cost $750 million to a billion dollars to "knock it all down and rebuild it in phases."
The land trade itself will involve what's known as the Cunningham land around Mono Lake. The Forest Service wants that land. Gregory said Andrea Lawrence had even worked to accomplish that trade. The Mountain will include other land around Mono Lake and in the Bridgeport area.
The legislation on this transaction will also allow Mammoth Mountain to pay some cash toward the exchange. Gregory said that the Inyo National Forest would be able to hold onto the funds locally so if other land becomes available for the Forest, the money would be on hand.