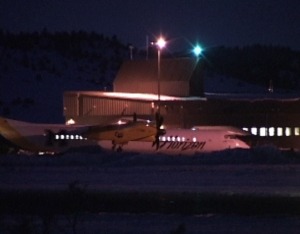 While the Town of Mammoth fights to keep its head above water, air service at Mammoth-Yosemite Airport grows.
The Town Council did seem to agree to pay the Town's share of air service subsidy, $215,000, out of marketing money.  During their discussion the Council asked Mammoth Mountain Ski Area Marketing Chief Howard Pickett to update them on air service for next year.  Pickett revealed that he remains at work on contracts with Horizon and United for seven different flights next year.
Pickett said he doesn't have the exact details yet, but is contracting with the airlines right now on costs and flight schedules.  He said the Mountain does have agreement that there will be one daily flight from San Diego via United; two daily flights from LAX on Horizon; one daily flight from San Francisco Airport and one additional flight from SFO that will operate on 4 peak weekend days.  United will fly both of those.  Plus, the Mountain has arranged flights from San Jose with Horizon and Orange County with United.  They will operate on peak weekend days as well as Friday, Saturday, Sunday and Monday.
In his report to the Council, Pickett added that with growth in flights comes the need for a new structure at the airport to accommodate increased numbers of passengers at the airport at one time.  Pickett did say that they are negotiating flight times to coordinate passengers' arrivals.  He added that with two partners, Horizon and United, more marketing support will help the effort.