Online entries for the 2011 Mammoth Motocross opened up Tuesday. Thanks to qualifying races this year, the Motocross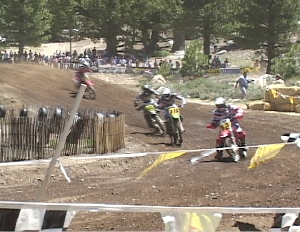 had added up 1500 entries before the online process started.
Race Director Mike Colbert said that qualifying races took place in Southern California, Central California, the Reno area and Boise, Idaho. A percentage of qualifiers gained early entry access. Colbert said that about half of the entries came from qualifying races and the other half from online entries. Mammoth Motocross snagged Monster Energy as the title sponsor for three years.
Participants will come to Mammoth from literally all over the world and nation. 3300 riders will participate with an expected crowd for the June 16-26 event of around 10,000.
Colbert sees the Motocross as a positive event for the Town with thousands of customers for local businesses over the 11 days. Mammoth Motocross came up with a banner program for businesses in Town. Motocross participants look for those banners and patronize the supporters.
Colbert said the motocross operates very smoothly now with lots of cooperation from the Forest Service and Town. The event will also include a major party at the Village, Mardi Gras style, with RC car racing. The Motocross races themselves include electronic scoring for the riders and IPhone motocross apps for spectators to keep track of scores.