Mammoth residents know nothing more today than they did Tuesday about how much money the Town may pay to Mammoth Lakes Land Acquisition to settle the $43 million lawsuit judgment.  What they do know is Assistant Town Manager Marianna Marysheva-Martinez said she will go public with all the details once a final settlement agreement is signed.
The Mammoth Town Council scheduled what they called a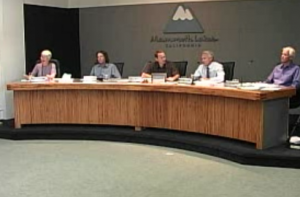 community update on the tentative settlement with MLLA and Terry Ballas when they met Wednesday night.  Mayor Matthew Lehman immediately turned over the item to Martinez. She said, "As I stand before you, I don't have answers for the community.  We have not finalized the agreement yet."  Martinez echoed what Town Manager Dave Wilbrecht said last week – details are being worked out with MLLA and Terry Ballas, the original developer.
Martinez said, "As soon as details are worked out and the final settlement agreement signed, we will be in this room before you and the community to answer any and all questions."  The Assistant Town Manager went so far as to say that she hopes to be back before the Council and public with news at the next Council meeting on September 19th.  But, she admitted, "We simply don't know."
As citizens push privately for details on the deal, Martinez said, "I'm sorry we can't say too much.  We are in the process of finalizing the terms, documenting the terms and hopefully some time very soon we'll be here with the details."
The members of the Town Council said nothing and moved on to the next item.