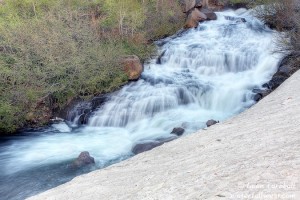 A month ago, the Mammoth Community Water District and Los Angeles Department of Water and Power signed a settlement to DWP's legal attack on Mammoth Creek water. Wednesday, Water District Manager Pat Hayes will explain the deal to the Mammoth Planning and Economic Development Commission.
More than a year ago, LADWP sued Mammoth and claimed LA, not Mammoth Water District, owns all the rights to Mammmoth Creek Water. The State granted Mammoth water rights permits to the creek sixty years ago. Instead of a court fight, Mammoth Water District decided to settle. It will cost more than $3.4 million, plus legal fees.
The agreement says Mammoth will have all the water it needs for annual use and for build-out of the community. For LA's questionable attack on Mammoth's water, the Water District will pay $3.4 million now and $2.4 million more in 50 years. According to the settlement, the money will be used to implement and maintain "water conservation and water use efficiency actions in the Mammoth Creek and Owens Valley watersheds. Both sides also agree to a system that will allow calculation and monitoring of the amount of water diverted from Mammoth Creek by the Water District.
The agreement does not spell out specific conservation methods or plans. Even though the agreement names conservation and water use efficiencies in the Owens Valley, Inyo County was not included in this deal. Questions are expected from the members of the Planning Commission.
In other matters before the Commission, Acting Department Director Sandra Moberly will discuss proposed zoning code amendments related to signs, outdoor sales and special events.
The Commission will also hold a public hearing on matters related to a rooftop enclosure for Shilo Inn and AT&T.
The Commission meeting was set for Wednesday afternoon at 2pm in Suite Z of the Town Offices.
Later the same day, the Mammoth Town Council will hold a special meeting. The only agenda item is a closed session with three topics of discussion. One of them is the case of former Police Sergeant Eric Hugelman who had appealed an earlier termination and won. He then filed a claim for back pay and benefits and then an additional claim on top of that for more wages due.
The second item on the closed session agenda is listed as anticipated litigation. Another item calls for discussions on employee negotiations.  Finally, the Council will consider evaluation of the Town Manager. That special meeting was scheduled for 5:30pm Wednesday in Suite Z.