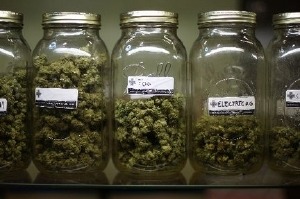 Even as federal prosecutors continue their crackdown on medical marijuana dispensaries in California, the two local dispensaries in Mammoth Lakes have no stated plans to close.  In fact, both of them have applied for renewal of their Town licenses.
Mammoth Police Chief Dan Watson said that the two medical marijuana outlets, Green Mammoth and Mammoth Lakes Wellness, took out 12-month Town permits about a year ago.  The local law says they must apply for license renewal within 60 days of expiration.  Chief Watson said both dispensaries did apply, and his department is in the process of reviewing whether or not they qualify for renewal.
Owner of Green Mammoth, Steve Klassen, said, "Yes, we are staying open to meet the obligations to patients."  Klassen added that the Town did vote in favor of dispensaries.  Robert Calvert, owner of Mammoth Lakes Wellness, would only say that his outlet is open.
The four California U.S. Attorneys had reportedly decided on their own to focus on large-scale dispensaries profiting from sales of medical marijuana.  They sent letters to some landlords, threatening to confiscate their property because they are leasing to dispensaries.  That apparently has not happened in Mammoth Lakes.
Although the U.S. Department of Justice attorneys had earlier said they would respect state laws, now they say that California's Compassionate Use Act has turned into the "Commercial Use Act."  The focus of the crackdown has so far been Southern California.
When contacted about the Mono District Attorney's position on current events, Assistant DA Tim Kendall said that the DA's office has no position on what the Feds are doing.
California Attorney General Kamala Harris had earlier admitted that state law on medical marijuana has some points that need to be clarified, but she said that "an overly broad federal enforcement campaign will make it more difficult for legitimate patients to access physician-recommended medicine in California."  Harris suggested a focus on significant traffickers of illegal drugs.