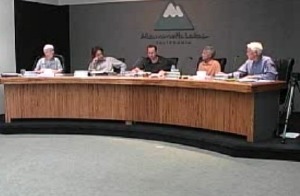 Before going into yet another special meeting closed session Tuesday night on matters of bankruptcy, Mammoth's Mayor Matthew Lehman said that the Town Council may have something to report soon.
On Tuesday, Mayor Lehman said he could not comment on the debt negotiations but said, "I hope to have something to report Wednesday or sooner." The US Bankruptcy Court had ordered the Town of Mammoth Lakes and its major creditor, MLLA, to mediate with a court-appointed mediator, Bankruptcy Judge Elizabeth Perris. Those mediations started August 6 and have continued.
Along with mediations among lawyers representing both sides, the Mammoth Town Council has held a series of closed sessions to review developments in the mediations.
For some time prior to the Town filing for bankruptcy protection in early July, officials said MLLA and the Town were far apart on settling the $43 million lawsuit debt. After the Town filed for Chapter 9 protection, MLLA lawyer Dan Brockett made it definite that the company would strenuously object to Mammoth entering bankruptcy.
The Bankruptcy Court docket still indicates a status conference before the court August 29th, and the docket indicates that MLLA withdrew its subpoena of Mammoth Mountain Ski Area documents regarding marketing and financing. The Mountain had prepared to fight that subpoena. Ski Area General Counsel
Ron Cohen said MLLA could get the information they sought from the Town and other sources. He said Mammoth Mountain did not want to be dragged into the MLLA versus Town of Mammoth disputes. It is unknown why MLLA withdrew the Ski Area subpoena.
So, as the Mammoth Town Council got ready to go into another closed session, Mayor Lehman gave a hint that, as he said, "there will likely be something to report."