While some think it's a premature move, Mammoth Mayor Skip Harvey still sees the possibility of a medical marijuana tax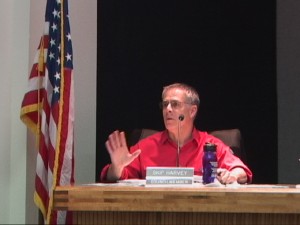 measure for an upcoming election.
The Mammoth Town Council briefly talked about the issues of a marijuana tax at their meeting last week but noted that a general tax would have to go on a ballot with a Town Council election. That's a year and a half away. A special tax would require a two-thirds vote.
After the meeting, Mayor Harvey said that he had learned Governor Brown is thinking of a special election in June for his own tax measure. Theoretically, Mammoth's tax could appear on that ballot. Mayor Harvey said he would speak with Councilwoman Jo Bacon about this and likely bring it back for more discussion.
At last week's meeting, Councilman Rick Wood pointed out that Mammoth has enough to deal with right now and should wait to give the two medical marijuana co-ops a chance to get their feet on the ground before taxing them.
Harvey said he has spoken to one of the co-op owners who he said felt the tax would be appropriate. Harvey favors a special tax that would pay for a school resource officer in the police department and possibly substance abuse programs. Harvey believes this kind of measure would gain considerable popular support.