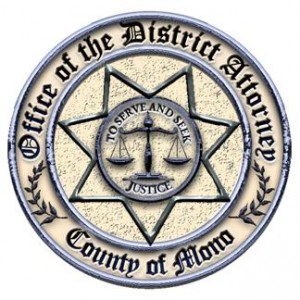 PRESS RELEASE 
On March 8, 2012, Mammoth Lakes resident, Gene Wayne HARRIS, was arrested on a warrant charging contact with a minor with the intent to commit a sexual offense.
On March 1, 2012, the Mono County District Attorney was referred an investigation through the MLPD School Resource Officer Program after HARRIS, age 41, made inappropriate contact with a minor through her Facebook account.
District Attorney Investigators took over the investigation and with the assistance of the School Resource Officer set up a sting with HARRIS, who is a previously convicted sex offender.  Over the course of several days HARRIS engaged with Investigators in an on-line conversation believing he was communicating with the minor child.  An eventual meeting was set up between HARRIS and who he believed was the minor at the Quality Inn.  DA Investigators with the assistance of law enforcement arrested HARRIS at the Quality Inn without incident.
This investigation was a cooperative effort between the Mono County District Attorney's Office,  Mammoth Lakes Police Department, Mono County Sheriff's Office, and the FBI.
Harris is being held at the Mono County Jail on $75,000.00 bail.   Both the Mono County District Attorney as well as the US Attorney's Office are reviewing the case for prosecution and appropriate venue.
The Mono County District Attorney along with local law enforcement agencies takes these cases very seriously. The protection of minors is a top priority and every effort will be put into investigating, prosecuting and protecting our youth from this kind of conduct.
The use of social-media can be dangerous and I would encourage parents to be vigilant and minors to be aware.  If inappropriate contact occurs please report it to the Mono County District Attorney or your local law enforcement agency.