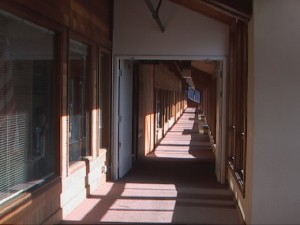 Mammoth Lakes pundits speculate that the Town continues to take steps toward bankruptcy as the June 30 court-imposed deadline to pay the $43 million lawsuit judgment approaches. The court writ demands payment in full or a 10-year plan. The latest moves, aimed at further streamlining town expenses, in the face of budget problems and debt, have led to the lay-off of Airport Director Bill Manning and a senior employee in Public Works.
In early May, Councilman Skip Harvey pointed at Airport Director Manning as a problem.  In relation to the lawsuit debt, Harvey said, "Who was down at the airport making decisions, making sure information got to the right people?"  This statement referred to Bill Manning's testimony on the airport lawsuit in which he admitted that he got a fax from the FAA with concerns about the development project proposed at the airport but never shared the document with Town officials.  Harvey said he was tired of the Town's most important asset, the airport, being managed in a "mediocre way."
At that May Council meeting, no other council members commented.  However, now the Town has laid off two senior employees, including Airport Director Manning.  According to Town Manager Dave Wilbrecht, the new fiscal year budget will reflect these lay-offs.   Wilbrecht said the Town continues to experience severe budget constraints and "needed to make further adjustments and consolidations."  Wilbrecht said the airport will be consolidated into the Public Works Department.  He said, "We are finalizing the structure and will have a presentation to the Town Council on June 20th."
Meanwhile, Wednesday at 5pm, the Town Council will hold a special meeting for the swearing in of newly-appointed Councilmembers Michael Raimondo and Jo Bacon.  Then they will all go into closed session over "initiation of litigation" and also labor negotiations.