The holidays are just around the corner, so get a jump on shopping at the Mammoth Lakes Women's Club Holiday Dazzle!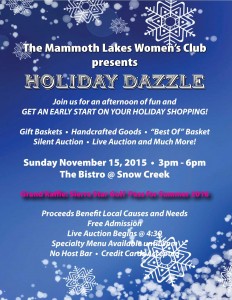 This 30+ year holiday tradition includes Silent and Live Auctions with elegant gift baskets, handcrafted goods and retail/dining certificates; a Wine Auction, Santa's Kitchen featuring homemade edibles, and Santa's Workshop with inexpensive gifts.  The Grand Raffle includes drawings for a Sierra Star Golf 2016 Pass, courtesy of Mammoth Mountain Ski Area,  and a Snowcreek 2016 Golf Frequent Player Pass.  Raffle tickets are $10 and can be purchased from Women's Club members or at the event.
In addition to the Grand Raffle, several raffles will be offered throughout the event including the popular "Dine-Around" and "Mammoth Shopping Spree" featuring gift certificates from local restaurants and businesses.  The "Best Of" basket will be offered again this year featuring an eclectic mix of Club member's favorite items from kitchen gadgets to great reads to time-saving devices.  New this year is a Wine Auction.
Elegant, themed gift baskets will auctioned, such as a "Spa Gift Basket", "Wine Basket", "Coffee Lover's Basket", and "Dog Lover's Basket" just to name a few.  Scrumptious edibles purchased from Santa's Kitchen are a great way to treat family or office-mates and can be frozen to complement a Thanksgiving dinner.  Inexpensive gifts from Santa's Workshop are sure to please family and friends of all ages.
Holiday Dazzle! takes place on Sunday, November 15th at The Bistro @ Snowcreek.   Food and beverages available for purchase.
Admission is FREE and everyone is invited to the event which begins at 3:00p.m. with the Silent Auction, Wine Auction, Santa's Kitchen/Workshop and Social; the Live Auction gets underway at 4:30p.m., culminating with the Grand Raffle.   Do your "one-stop" shopping at Holiday Dazzle! and know that all proceeds benefit the Mammoth Lakes Women's Club charities in our community.   View the website at www.mammothlakeswomensclub.com for further information.