Mammoth Lakes has grown and modernized with new projects in town, but internet speeds have not kept up with the resort's demands. Verizon finally agreed to connect Bishop and Mammoth with a fiber optic line which would lead to more bandwidth and faster online access, but the project is now delayed.
Mike Page of Verizon said that some pieces of equipment have not arrived from the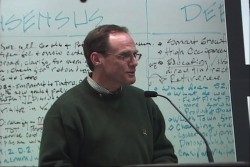 manufacturer as they were supposed to – hardware to help attach the fiber line to poles. Page said the equipment did not arrive. Verizon called and found the pieces were on back order. Page said they should be available by January. At that point weather could impede progress.
Page explained that from the office facility where the fiber line will terminate, actual high speed access will have to be created from there. Page explained that Verizon will deliver what amounts to a new pipe line and as part 2 of the project, high speed access will be developed.
Before the southern California fires, Verizon was ahead of schedule on the fiber line, according to Page. Some Verizon workers were pulled away to deal with issues down south. To reports that right of way issues may still be an issue, Page said he didn't think so. To complaints from Swall Meadows and other areas between Bishop and Mammoth that they weren't going to get service, Page said the project was only designed to hook up fiber in Mammoth from Bishop.