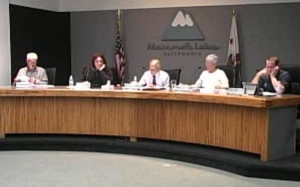 "Use the Reserve for Economic Uncertainties. It's money for like what's happening to us right now." That's what Mammoth Town Councilman John Eastman said, and he called the lack of snow now a "rare event." He said it is statistically unlikely to happen again next year. The Council faced facts Wednesday night and agreed to cut back revenue projections.
Finance Director Cyndi Myrold and Interim Town Manager Dan Holler laid out the facts to officials. Myrold said that it was recommended to the Council that they accept the $500,000 excess revenue from Transient Occupancy Tax, July through November, and then reduce the general fund projected revenue for the second half of the fiscal year. Myrold said in addition to TOT declines, other revenue sources would go down too – franchise fees, sales tax and property tax.
Manager Holler said the estimated gross loss of revenue is $1 million for the rest of the fiscal year. Said Holler, "It all depends on how the winter plays out." Holler said some additional revenue from snow removal reimbursement and a COPS grant plus personnel savings and some cutbacks would mean the need to address $310,000.
All things considered, Holler said the staff was asking for $300,000 from the Reserve for Economic Uncertainties and $85,000 from somewhere else. He said the idea is not to reduce services or staff.
Council woman Jo Bacon immediately said the Council should authorize up to $385,000 from the REU. Councilman Michael Raimondo asked Holler to look for more savings. Holler said Mammoth Lakes Tourism is cutting back and so is Eastern Sierra Transit. He said he has asked Town departments to "tighten their belts."
Councilman Eastman pointed to the $2.6 million Reserve for Economic Uncertainties and said the Town should take its drought shortfall from that money. Eastman also praised Police Chief Dan Watson for making the best of a nearly 50% cut in his staff by developing a Reserve Officer program with six officers. Eastman said he was not willing to cut any more staff in Town government.
Eastman made a motion to acknowledge the $500,000 excess TOT, reduce budget revenue projections by $1 million due to poor snow and use up to $385,000 from the REU to balance the budget. The motion passed with a unanimous vote.