– Press release
Hey Mammoth Lakes residents! it's time to pitch in and volunteer to help clean-up our town! On Saturday, May 16 from 8:00 a.m. until 2:00 p.m. drop off your trash, recycling, and green waste at the TOWN CLEAN-UP DAY STATIONS conveniently located at the Mammoth High School Parking Lot, the Community Center, Sierra Valley Sites, and the Mammoth Disposal Transfer Station.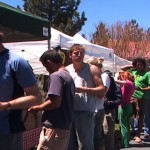 Information, maps and complimentary bags will also be available for collection at Mammoth Creek Park between the hours of 8:00 a.m. and noon.
When you're all done cleaning up join us for a Celebration of Thanks! immediately following at the Sierra Nevada Resort and Spa property, compliments of the Old Mammoth Restaurant Row Association.
For additional information on Town Clean-Up Day, or to arrange for collection of abandoned vehicles, please contact Sherine Sanders at (760) 934-8989 ext. 244.
The Town thanks you in advance for taking pride in your community and we'll see you on Saturday, May 16for Town Clean-Up Day!