– Town of Mammoth Lakes press release
Step back in time to 1984 at Shady Rest Park this Friday, August 15, 2014 at the Town of Mammoth Lakes 30th Anniversary FREE Community Party. Festivities begin at 3:00 p.m. with a plethora of games and activities for all ages. The anniversary ceremony begins at 7:00 p.m. with a speech by the Mayor, followed by a community toast and celebratory cupcakes. For the following two hours its nothing but the best of the 80's!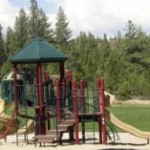 "It's a flashback to the 80's so come dressed in an outrageous costume, hit the custom disco floor – complete with disco ball, and "Whip it" up with Devo, or "Walk Like an Egyptian" with the Bangles, and don't forget to wear Corey Hart's "Sunglasses At Night," suggested Stuart Brown, Recreation Manager. "Prizes will be awarded for best costume and dance moves!"
Roving entertainers dressed as the flamboyant musician formerly known as Prince, along with "MJ" the King of Pop will have you moon-walking and dancing to the timeless 80's songs throughout the evening. We also invite you to visit the interactive booths and learn more about the Mammoth Elementary School PTO, water conservation with the Mammoth Community Water District (MCWD), Mammoth Lakes Tourism and the Town's Community Emergency Response Team (CERT).
Join us for complimentary games on the lawn, such as beanbag toss, Blongoball, horseshoes, giant Jenga, Twister and Connect 4 along with sand volleyball, roller skating, skateboarding, soccer, the ever-popular Dunk Tank (small-fee), pick-up soccer and more.
Feeling hungry? We've got you covered. The Mammoth Lakes Lions Club will be serving summer favorites including: hamburgers, pulled pork sandwiches, polish dogs, soft serve ice cream cones/sundaes and more.
Roberto's will also be serving their tantalizing tacos and Pita Pit will be offering mouth-watering unique soft and roll-able pita bread.
Feeling thirsty? Purchase water from the Welcome Booth for only $2.00 (3 for $5.00), refill your water bottle at the Mammoth Community Water District (MCWD) Water Station, or buy your cold adult beverages including beer, wine and mixed drinks from the Mono Council of the Arts Beverage Bar.
The Town encourages the community to take the complimentary Town Trolleys operating every 15 minutes along Old Mammoth Road and Main Street with a special stop at Shady Rest Park. All trolleys operating between 2:30 p.m. and 9:30 p.m. on August 15 will stop at Shady Rest Park so jump on and celebrate the Town's 30th Anniversary! Dogs are also welcome at the party on a leash. Feel free to bring your own chairs, blankets and shade then chill out for the afternoon in the family chill-zone adjacent to the stage and games.
This event is proudly bought to you by the Town of Mammoth Lakes, Green Fox Events and Guest Services, Mammoth Community Water District, The Sheet, Mammoth Times and Sierra Wave. The Town would also like to thank Vons, Sue Ebersold and the Mountain Cakery for donating the 1,000 mouth-watering branded cupcakes.
For additional information about the event, please visit the dedicated website: www.MammothLakes30.com or contact Stuart Brown, Recreation Manager and Public Information Officer at (760) 934-8989 ext. 210.