By Deb Murphy
The day after the Town of Mammoth Lakes held a wildfire workshop, fires in Ventura County and north of Sacramento were back in the news. The consensus: the state's fire season runs from January 1 through December 31.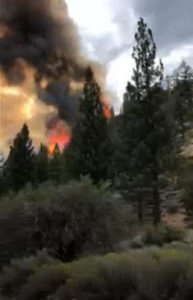 Representatives from Inyo National Forest and Mammoth Lakes Fire Department explained both their preventative measures and incident procedures to the Town Council, the first line of attack by residents concerned about smoke and fire danger near residential areas.
INF Supervisor Tammy Randall-Parker put it all in perspective toward the end of the two-hour session: "The safety of our fire fighters weighs heavily in our decisions," she said, noting that up to 20 firefighters die in the line of duty each year.
Public Affairs Officer Debra Schweizer offered statistics defining the extent of the problem. Ten of the 20 worst wildland fires have occurred in the last 10 years; two of them just this year. The worst fires are human-caused and generally occurring near developed areas. These are always suppressed she said. Lightning-caused fires are smaller and less destructive.
The following is a rundown of information shared at the workshop:
In addition to the conventional push for defensible space and retroactive building fixes, Mammoth's Fire Chief Frank Frievalt is looking to reduce fuels on a larger scale and has met with insurance companies to establish best practices by looking at insurance risk guidelines.

Agencies can reduce fuels through mechanical treatment or with proscribed fires, according to INF Fire Management Officer Taro Pusina. Mechanical treatment is expensive; proscribed fires mirror natural fires.

The Forest Services' top priority, with the new administration in Washington, is timber production but there's little market in the Eastern Sierra.

Proscribed fires need to focus on developed areas and move out. An issue with proscribed fires is the state's air quality control boards, but, according to Schweizer, they are "loosening up." "We need more acceptance of 'a little smoke' as opposed to the Ferguson Fire," Randall-Parker said.

In response to the Town Council's request to be involved in fire management decisions, Mammoth and Mono Lakes District Ranger Gordon Martin explained agencies had a short time frame to make those decisions. The considerations are how natural fires started and where and if there is no threat, is it beneficial. He also explained the agencies work closely with the air boards on natural and proscribed fires. Pusina added that contact is not required on suppression fires, but "we still do (maintain that contact) if the areas we let burn fall within the regulatory process."

Councilmember John Wentworth and Randall-Parker discussed a partnership, using Mammoth Lakes Recreation as the fiscal agent for grant funding to deal with some of the issues like bio-mass reduction and, in the process, work on sustainable forests and recreation.

Despite the angst caused by the Lion Fire, there were positives. Sierra National Forest Fire Management Officer John Goss explained the fire was a "big piece of the puzzle" in clearing out the San Joaquin River drainage
The logical solution: a public outreach, education program to help the community understand how the fire agencies work and that "this is the world we live in now."