Members of the new Mammoth Town Council rode into office promising to shake up the town government. Much of the election talk was on the Towns budget and staffing, but an agenda item set for the Wednesday night council meeting shows that the council will also consider major changes to the structure of Town government itself.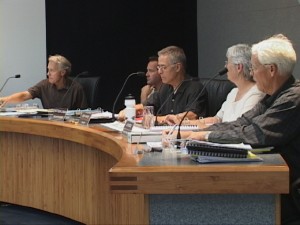 According to the staff report, the Town Council asked staff to look at restructuring options during budget talks on July 19th. Over the years, there has been talk in Mammoth Lakes of moving to an elected mayor position. That option is listed, but it is one of many options listed in the staff report.
Right now, the Town of Mammoth Lakes has an elected five person city council and a town manager that is charged with putting the councils directions into practice. Town staff reports that this form of local government concentrates power in the town council.
Other cities, such as Bishop, have an elected five person city council with a city administrator, who works with the council to hire staff members. This model can also include a strong elected mayor position that has executive power, or a mayor that is essentially a council member who serves for one year and then passes the job on to another council member on a rotational basis.
A directly elected mayor, who serves for two years, but shares the decision making duty with the other four council members is an option. In this case the mayor could have the additional power to appoint people to commissions.
Another idea up for discussion includes creating districts for city council.
This item is on the council agenda as a discussion Wednesday night, so nothing will be finalized at the meeting. If the council does decide to move forward with a restructuring of town government, Town staff suggests that the issue be brought to the voters for a decision.