United Blood Services wants to remind you…to Find the Hero in You…and donate blood at the Mammoth Lakes Community Blood Drive, Sponsored by the Mammoth Lakes Hospital Auxiliary.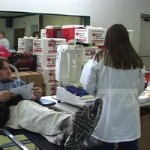 Donate at the Mammoth Lakes Fire Station #1 On Main St, Tuesday May 12th, 10AM to 6PM, Wednesday May 13th 10AM to 6PM and Thursday May 14th 8AM to 1PM.
All blood donors will receive a voucher for a free Fish Taco Donner courtesy of Whoa Nellie Deli and all donors will be automatically entered to win our United Blood Services-Heros Needed drawing for a chance to win (1 of 2) $750. Southwest Gift Cards.
To Schedule your life Saving appointment, log on to BloodHero.com, click "Donate Blood", use sponsor code: SNOW or call 1-800-696-4484.
Again, the number to call for your appointment to Donate Blood at the Mammoth Lakes Community Blood Drive is 1-800-696-4484.