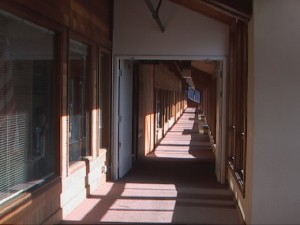 TOWN OF MAMMOTH LAKES ANNOUNCES AN UPGRADE TO ITS BOND RATING AS A RESULT OF A SETTLEMENT WITH MLLA AND RESTRUCTURING PLAN ADOPTION (Press Release)

Mammoth Lakes, California, December 20, 2012 – The Town of Mammoth Lakes
announced today an upgrade to its bond rating by a leading rating agency, Standard & Poor's (S&P).  An official announcement from S&P is attached and available on the Town's website.
A bond rating, similar to a credit score for an individual, determines whether a municipality is able to get financing, and at what interest rate. The Town's bond rating was downgraded by S&P to "C" in July 2012, when the Town declared bankruptcy. It was only "BB" with a "developing" outlook in 2009.
Getting its bond rating upgraded to "BB+" with a "stable" outlook is a major
accomplishment of the Town, and reflects the recent successful efforts of its elected
and appointed leaders to: 1) reach a settlement with MLLA for $29.5 million on a
judgment of $43 million; 2) as part of the settlement, securing a flat interest rate of
5.17% with a long-term payment at $2 million annually; and 3) developing and swiftly
implementing a restructuring plan to make the settlement payments.
The Standard & Poor's rating upgrade statement states:  "We base the upgrade on our
view of a recent negotiated settlement between the town and its largest creditor,
Mammoth Lakes Land Acquisition (MLLA), as well as the town's successful November
2012 withdrawal of its petition for bankruptcy." S&P further commends the Town for
implementing the "five-year restructuring plan, which we believe if implemented could
restore structural balance to the general fund in the next two years and eventually build
general fund reserve levels to slightly higher levels."
The "BB+" rating with a "stable" outlook is better than what the Town had in
2009. However, it is not the best, and the Town will be working diligently in its efforts to
convince the S&P, other rating agencies (Fitch and Moody's) and investors of its
abilities to live within its means, and have financial discipline. In the next few months to
a couple of years, two factors will be crucial in improving the Town's rating and,
therefore, its credit worthiness: 1) increasing our reserves and 2) not deviating from the
approved budget reduction measures.
Let S&P's announcement underscore this point: "Should the town implement budget
adjustments as planned to approach structural budgetary balance including the
settlement payment, we could raise the rating in the next year. The town's failure to
maintain adequate general fund reserves … as it absorbs the additional settlement costs
into the budget and manages potential fluctuations in general fund revenue could lead
to a downgrade."