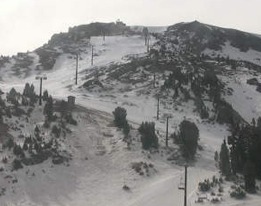 Thursday, January 19, 2012
Good morning,
The total projected average resort occupancy* is as follows:
Friday, January 20, 2012 – Saturday, January 21, 2012 = 30%
(53% same weekend in 2011, down in 2012)
Sunday, January 22, 2012 – Thursday, January 26, 2012 = 19%
(36% same midweek in 2011, down in 2012)
Hotels/Motels/B&B:34% (Fri-Sat) 16% (Sun-Thurs)
Condos:27% (Fri-Sat) / 21% (Sun-Thurs)
*Please remember the projected occupancy is calculated in order to assist the business community with staffing levels and product ordering.  The actual occupancy percentages are reported from the lodging industry to the Town of Mammoth Lakes Finance Department.
---
 Mammoth Nordic Foundation Hosts
"Winter Wildlands Alliance Backcountry Film Festival"
• Friday, January 20, 2012, 6:00 p.m.
• USFS Auditorium, 2520 Main Street, Mammoth Lakes (near the Welcome Center)
• Cost is $10 with tickets available at Access Art & Business Center
• Limited seating, so please purchase in advance; remaining seats will be $15 at the door.
www.mammothnordic.com
---
Tradeshows, Tour Operators, and International Markets 101
RoseMarie Sutton, from Sutton & Associates and Nicolas Barrancos, from MMSA will be conducting an informational training program about the basics of the Travel Trade Industry, the many reasons it is important to your lodging business, and the potential value of the International Traveler to your company's growth. Learn the ABC's on the terminology of the industry, how to prepare your property and rates, and what certain markets may be expecting. Also learn how you can more effectively package your property with MMSA's many products.
Date: Monday, January 30, 2012
Location: Edison Hall (the old ski museum)
Times: 10:00 am – 11:30 am
Cost: FREE
For Who: All Mammoth Lakes Lodging Partners (business owners, GM's and staff)
SPACE IS LIMITED!
RSVP: By 1/26 1st come, 1st serve. Please reply to Ellin Kohler atMail to: [email protected] at Mammoth Lakes Tourism.
---
The Town of Mammoth Lakes Recreation Department
offers a plethora of winter recreational programming for kids of all ages. Snow or no snow, never have a slow day in Mammoth again!
Please call us at (760) 934-8989 ext. 222 or visit our office located above Giovanni's for additional information or reservations.
We hope you'll take advantage of what our team has created and what awaits you in Mammoth Lakes – your recreation nirvana!www.ci.mammoth-lakes.ca.us