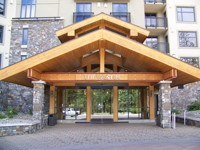 Polish Your Resume for the Annual Mammoth Lakes Job Fair
Annual Fair brings potential employees and employers together in one spot
Mammoth Lakes, Calif. (September 15, 2014) — Winter is approaching and the Mammoth Lakes Chamber of Commerce (MLCC) wants to match potential employees with local Mammoth Lakes' employers at the annual Mammoth Lakes Job Fair. The Fair will be held Saturday, October 4, 2014 from noon to 4 p.m. at The Westin Monache Resort in Mammoth Lakes. Resume workshops and interview tips will be available onsite.
The Mammoth Lakes Job Fair, sponsored by the MLCC, The Westin Mammoth, and KMMT, will be followed by a networking happy hour inside The Westin's Whitebark Restaurant, beginning at 4 p.m.
Potential employees take note, job options are not limited to opportunities traditionally thought of as mountain jobs such as bartenders and servers. Currently, the Town of Mammoth Lakes, Mono County, Black Tie Ski Rentals, The Westin Mammoth and Doorstep Deliveries, among others, have all signed up for a booth at the Fair and will be looking for employees.
If you are a business interested in participating in the Fair, the cost is $30 for a booth. Employers are encouraged to bring some swag, as well as brochures and information about their businesses.
Making a special trip to Mammoth Lakes for the Job Fair? Both The Westin Mammoth and the Sierra Nevada Resort (SNR) are offering special rooms rates for the weekend. The Westin Mammoth is offering a rate of $139 for deluxe studio rooms with kingbeds and double pullout couches. Call 888-627-8154 and ask for the job fairrate. The Sierra Nevada Resort is offering a rate of $99 plus tax for a standard, two-queen room. Please call 800-824-5132 and ask for the job fairrate to book at SNR.
For more information about the Mammoth Lakes Job Fair, contact Natalie Post at 760-934-2712, ext. 1220 or [email protected]. You can also learn more about the event atwww.Facebook.com/QuartMLCC.
What: MammothLakes Job Fair
When: October 4, 2014 from noon to 4 p.m.
Where: The Westin Monache Resort, Mammoth Lakes
Who: Potential employees and businesses looking to hire
How: Sponsored by the Mammoth Lakes Chamber of Commerce, The Westin Mammoth and KMMT
Why: To matchemployees and employers for the 2014-15 winter season