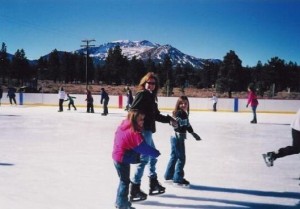 MAMMOTH ICE RINK TO OPEN FOR THANKSGIVING HOLIDAY
Mammoth Lakes, CA – The Mammoth Ice Rink will open to the public at 3:00 p.m. on Thanksgiving Day, Thursday, November 27, 2014 (weather permitting). Experience the exhilaration of ice-skating outdoors and under lights this Thanksgiving Holiday at the professionally maintained and staffed Mammoth Ice Rink.
"The Town is thrilled to be able to offer ice skating this Thanksgiving Holiday for our many visitors and locals looking for a fun and family-friendly winter activity," stated Stuart Brown, Recreation Manager for the Town of Mammoth Lakes. "New this year is our new 3-day Learn to Skate Program, a season-long Figure Skating Program, an enhanced Youth Hockey Program, and lunch time Broomball and Stick Time. Guests will also enjoy the enhanced changing room with carpet, cubbies and seating, along with our famous hot chocolate and popular outdoor fire-pits."
The Mammoth Ice Rink is an outdoor facility located at 416 Sierra Park Road adjacent to the Mammoth Lakes Library. The facility offers recreational skating 7-days a week from11:30 a.m. until 9:00 p.m.  Amenities include skate sharpening (2 for 1 special until 12/19/14), skate rentals, snack and beverage services, restrooms, a heated changing room, and outdoor gas heaters.
Adults can skate for $12.00/session with rentals; youth, seniors and military personnel pay only $9.50/session with rentals; and kids 4 and under skate free (rentals $3.50) with a paid adult. This winter get your 6th Skate FREE with the Five Skate Pass (5SP), skate mid-week for half-price, and local students skate for only $2.00 per session (including skate rentals).
New Learn to Skate Program
Join our 3-day Learn to Skate program at the Mammoth Ice Rink.  Classes begin with the fundamentals and are structured according to the U.S. Figure Skating Basic Skills Program. Classes are scheduled for 60 minutes each day and are offered for both youth and adults. The program fee is only $31 for youth (5-15 yrs.) or $41 (16 yrs.+) for adults with skate rentals. The adult program begins on Wednesday and continues on Friday and Sunday from 12:00 – 1:00 p.m. The 3-day Youth Learn to Skate program commences on Monday and continues on Wednesday and Friday afternoons from 4:30 to 5:30 p.m.  All participants receive a certificate of achievement and one complimentary skate session including rentals for your next visit.
Youth Hockey
Mammoth Lakes Youth Hockey is open to skaters 5-18 yrs. old. The cost for the 2014/15 season is only $159 and includes: 2 Team Jerseys, one year added benefit membership and practice insurance coverage with the AAU, and a Youth Hockey Season Pass.  Practice is scheduled every Sunday, Monday and Wednesday from 6:00 – 8:00 p.m. (non-holiday), and every Saturday from 9:00 – 11:00 a.m.  During holiday periods the club skates on Monday, Wednesday and Saturday from 9:00 – 11:00 a.m.  Please visitwww.mammothyouthhockey.com or email Patrick at [email protected] for additional information or to register.
Figure Skating Program
Join our US Figure Skating instructor and learn the FUNdamentals of figure skating. Classes are offered every Monday and Friday afternoon for the entire season at the Mammoth Ice Rink. Elementary School Students skate from 3:00 – 3:30 p.m., Middle School Students are scheduled from 3:45 – 4:15 p.m., and High School Students and Adults take to the ice from 4:30 – 5:15 p.m. The cost for a 5 Skate Lesson Pass is only $41 ($8.20/session!).
The Mammoth Ice Rink is owned and operated by the Town of Mammoth Lakes through a partnership with Mammoth Unified School District (MUSD) and the Mono County Office of Education (MCOE).  The facility is drug-free, smoke-free and pet-free.  We accept cash, credit cards, and personal checks with a valid driver's license.
For the complete winter schedule, rates and special promotions, please visit www.mammothicerink.com, pick-up our brochure in all Certified Racks located throughout the Eastern Sierra, or call the Mammoth Ice Rink at (760) 934-2505 during operating hours.