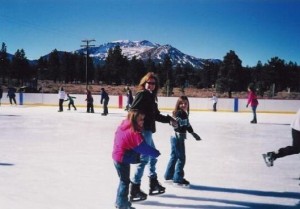 Get Your Skates On Mammoth Lakes! (Press Release from Stu Brown)

The Mammoth Ice Rink is scheduled to open this Friday, December 14, 2012 (weather permitting) at 11:30 a.m.  
The Mammoth Ice Rink is an outdoor facility located at 416 Sierra Park Road adjacent to the new Mammoth Lakes Library offering public skating sessions, hockey clinics, pick-up hockey, Friday night lessons and is available for rental.  Bring you 2 for 1 coupon in before December 20, 2012 and skate for half price!
Skate with Santa!
Skate with Santa on Thursday, December 20, 2012 between 5:30 – 8:00 p.m. at the Mammoth Ice Rink.  Jump on Santa's knee and tell him what you want for Christmas, and Bluebird Imaging will be available to capture that special moment or to personalize your family Christmas card for only $10.  We will have fire pits, hot cocoa and snacks available for sale as well.
Admission
Adults skate for $10.00 with skate rentals, youth (5-15) for $8.00 with skate rentals, and kids 4 and under skate free with a paid adult. This winter get your 6th Skate FREE with the Five Skate Pass (5SP), Seniors and college students skate mid-week for half-price, and local students skate for only $2.00 per session (including skate rentals).
Friday Night Lessons
Ice skating group lessons are scheduled every Friday night at the Mammoth Ice Rink.  Lessons are scheduled for 45 minutes for a cost of only $10 per student with a maximum of 8 students per session.  Friday night lesson times are 6:00 – 6:45 p.m. for Elementary age children and from 7:00 – 7:45 p.m. for Middle/High School age skaters.  Purchase five lessons in advance and get the 6th Lesson FREE!  Ice skates are not included in the fee, but are available for rental.  Private lessons are available for $25/hour.
Ice Hockey
Pick-up Ice Hockey is programmed at the Mammoth Ice Rink for the entire season (includes holiday periods).  Please refer to the schedule for details.  Fees are $10 for adults or $5 for youth per session, or $150/$100 for an Adult or Youth Season Pass.
The Mammoth Ice Rink is owned and operated by the Town of Mammoth Lakes through a partnership with Mammoth Unified School District and Mono County Office of Education.  The facility is drug-free, smoke-free and pet-free.  We accept cash, credit cards, and personal checks with a valid driver's license.  For the complete winter schedule, rates and special promotions visit www.mammothicerink.com or call the Mammoth Ice Rink at (760) 934-2505 during winter operating hours.