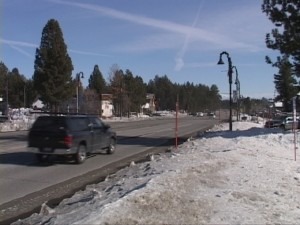 Mammoth Lakes Housing, Inc., a group mandated by the Mammoth Town Council, has taken funding hits over the past year or so and now the housing board has asked the Town Council to stop the cash drain of voter-approved tax money for housing.
In a position statement issued Wednesday, the Mammoth Lakes Housing Board of Directors reminded the Town Council that Mammoth still has a housing crisis in spite of the economic crisis created by the MLLA debt payment. The statement says that the Town has diverted $482,000 per year of voter approved housing funds to non-housing uses. Officials say the housing program can not stand up under more cuts and that the Town Council must continue to "leverage the Town funds of $329,000 with state and federal grants." Finding an affordable place to live for low and middle income families remains a tough proposition.
With a 60% cut of its former budget, housing stands on a shaky edge to repay loans and to go on with plans to meet housing needs. Some officials don't believe in the housing program. Mayor Matthew Lehman, for one, has made it clear with sometimes sarcastic and pointed remarks that he does not believe in spending government money on workforce housing. He sees it as a detriment to the real estate industry and others. Last spring, Lehman said that Mammoth has "created a socialistic society driving property values down." Back then, the late Councilman Skip Harvey had said that with his restaurant employees he had seen "slumlords" in Mammoth with "outrageous rents and high utilities." Councilman Rick Wood had said, "The social fabric is enhanced by housing."
The Housing Board says the housing market in Mammoth has not stabilized. Mammoth Lakes Housing currently has a waiting list of 32 Town residents who need less expensive, better quality housing conditions. In the past 9 years, Mammoth Housing has built or renovated apartments for 84 families. Officials say that Mammoth received more than $12.2 million in grants to build or rehab rental units. Plus, $25 million in affordable housing bonds and tax credits. The position statement says, "These funds brought construction jobs and should continue to do so."
Mammoth Housing also provided homebuyer assistance loans of nearly $3.7 million to 57 households. The position statement says, "These loans also benefited the real estate industry including agents, appraisers, escrow companies, lenders, title companies and home inspectors." Housing officials also point out that acceptance of state and federal funds includes monitoring of homebuyers, reporting of all transactions and making sure repaid funds from homebuyers are used in an approved program or returned to the state.
The Mammoth Lakes Housing Board of Directors requests in its statement that the Town Council "cap the taking from housing at the current level of $482,000 until the Council can implement revenue generating sources to pay the MLLA settlement." The Housing Board also asks that the Town Council develop a plan o reinstate the 1% Transient Occupancy Tax commitment to housing within the next 5 years.