– Mammoth Hospital Press Release
As part of a commitment to deliver excellent, compassionate health care services for our residents and visitors, Mammoth Hospital is now donating the services of a certified athletic trainer to increase safety for Mammoth High School student athletes.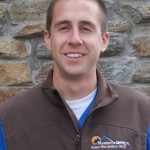 Athletic Trainers are health care professionals who specialize in the prevention, diagnosis, treatment, and rehabilitation of various injuries and sports-related illness. The American Medical Association, American Academy of Family Physicians, and many other organizations advocate the need for certified athletic trainers in high schools.
Mike McMahon, Certified Athletic Trainer was recently hired by Mammoth Hospital to fill two needs; one as a Certified Athletic Trainer to assist with high school sports programs as well as local athletes, and the other as an Orthopedic Technician in the hospital's SPORT Center. Mike will collaborate with Mammoth Hospital's physicians, nurses, EMT's, and physical therapists in order to ensure continuity of care, optimize safety, activity, and participation of students at Mammoth High School.
Mike has a Master's degree in Athletic Training from Weber State University and a Bachelor's degree in Human Biology with an emphasis in exercise science from the University of Wisconsin – Green Bay. His employment background consists of providing athletic training services to high schools, universities, sporting events, and professional athletes, including traveling with the Summer and Winter Dew Action Sports Tour for the past three years. He was on the Nordic Ski Team at the University of Wisconsin – Green Bay and has completed four American Birkebeiner races (55 km Nordic ski race). In addition to providing athletic training services to MHS, Mike will be working with the Mammoth Mountain ski, snowboard, and free ride teams. In his short time at Mammoth Hospital, he has jumped right in to his role, providing assistance to the US Ski Team at their Spring Series Alpine Camp on Mammoth Mountain.
Mike is passionate about his work and is very excited to begin working with Mammoth High School's student-athletes. For more information on Athletic Training at Mammoth Hospital and Mammoth High School sports, visit www.mammothhospital.com or call our Orthopedic Department at (760) 924-4084.