In a series of three meetings, Mammoth Hospital officials have laid out the fact that 20 staff members will either leave voluntarily or face lay-off in July. Monday's meeting also revealed that the hospital has lost as much as $3.3 million a year for "several years."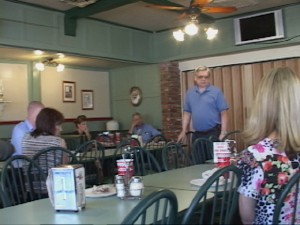 On Monday, Chief Operations Officer Joe Bottom spoke to a group of 25 Mammoth Hospital employees who work in Bishop. He talked nitty gritty. If workers voluntarily quit, they get no unemployment. Severance pay can be negotiated. Cobra health insurance for terminated workers will cost $830 per month. Severance pay will be taxed.
Bottom said officials tried to handle the situation through attrition, but he said turn-over isn't happening. Bottom said it's necessary to prepare for the future. "This is a tough time," said Bottom. "It's going to be a tough time."
Voluntary termination requires that workers make application. Officials will consider many things, including tenure and performance, when they make the decisions. Bottom said officials will make decisions by July 15th.
Bottom said the economy has impacted income. "We used to depend on revenues growing. The world has changed." Hospital Administrator Gary Boyd made very few comments. He did say Mammoth is a resort community and the hospital can no longer afford to staff to upper levels of tourist population.
New Chief Financial Officer James Hughey said that the hospital is losing $3.3 million a year. "This has been going on for several years," he said. Hughey also said that the late balance due equals $5 million. "We're spending more than we're making," said Hughey. "We're losing more money every week than we're bringing in."
Employees hinted at improper management that has led to staff cuts. One man pointed to a failed and costly computer system, major problems processing bills and claims. Officials admitted that cost over-runs on the hospital building project cost $5 million more than anticipated.