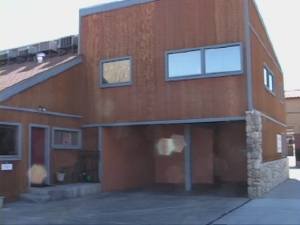 In recent weeks, Mammoth Hospital bought a 4,000 square foot building in Bishop at the corner of Home and Line Streets for around $530,000. Mammoth Hospital Chief Operating Officer Joe Bottom said the building will house orthopedic doctors and a physical therapy business. Some have viewed this move as a way to take patients from Northern Inyo Hospital to Mammoth.
At their last meeting, Mammoth Hospital Board members also approved the purchase of half of a lot behind the main building in Bishop to serve as a parking lot. Board member Helen Shepherd did tell Bottom that the Board does need a business plan for this project.
Bottom said that Mammoth Hospital had to buy the building in Bishop since Northern Inyo Hospital put restrictions on the suite now used by Mammoth orthopedic doctors. Bottom said to see patients in Bishop, Mammoth doctors have to be members of the Northern Inyo Hospital staff, pull call, and the deal is month to month.
Northern Inyo Hospital Administrator John Halfen said there are no new restrictions. He said medical office building CC&R's do require that practitioners be members of the hospital medical staff. Administrator Halfen also said that Dr. Perry, who signed the lease for Mammoth, wanted a month to month situation.
COO Bottom said of the Mammoth Hospital purchase in Bishop, "It's a building. It's not about relationships." Bottom added that to get a good orthopedic group, "you need a good patient load." Asked how he would respond to concerns that Mammoth is "stealing patients from Bishop", Bottom said, "I don't think that's the case. They're driving up here now." Bottom said that some day the two hospitals "need to coordinate." He said orthopedics are specialized and the two counties don't have a big population. He said one group could serve both Mono and Inyo.
Bottom also said, "Nobody wants to take business from Northern Inyo Hospital." However, Administrator Halfen said, "I do know with absolute certainty that Mammoth needs a significant amount of orthopedic patients in Bishop to make their plans work." Halfen said Northern Inyo Hospital intends to get their own orthopedists. The Northern Inyo Administrator said Bishop intends to provide orthopedic care. "It will be a waste of Mammoth's resources if we get one or two doctors," said Halfen. He said Northern Inyo is interviewing all of the time.
This is not the first situation involving Mammoth-purchased buildings near Northern Inyo Hospital. Several years ago, Mammoth bought the former Cerro Coso College building on Birch St. for an orthopedic surgery center. Mammoth physicians did not want to use the building since it was far from the Northern Inyo Hospital campus. Eventually, Northern Inyo Hospital bought the building from Mammoth.