In the November election, Mammoth Lakes voters chose incumbent Jack Copeland and challenger Dr. Dennis Crunk to fill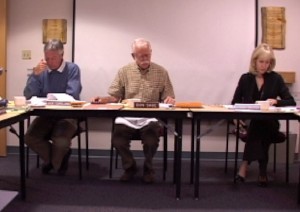 two vacancies on the Mammoth Hospital Board. Now, another vacancy exists.
Long-time Board Chairman Don Sage confirmed that the announcement of his resignation went out at this month's Board meeting. Sage said his resignation is effective tomorrow, November 30th. He said, "The Board declared a vacancy and will probably appoint Linda Salcido to the remaining two years of my term."
Salcido had run in the last election as an incumbent and was not re-elected. Mr. Sage did say that anyone interested can put in an application or request for this appointment. He said the Board will vote to fill the vacancy.
Sage has served on the Mammoth Hospital Board for close to 15 years. He called it a very interesting process. "We've evolved from a very small institution to kind of a big one," he said. Sage called Mammoth Hospital a "good institution and the community is well-served."
Sage noted that the finances of the hospital are "very complicated." He said changes in health care will likely make things very complicated the next couple of years.
We will speak with Hospital administration to learn more about the process to fill the vacancy left by Sage's resignation.