After several below normal water years, how does Mammoth's water supply sit? At a recent meeting of the Mammoth Community Water District Board, staff members delivered a report.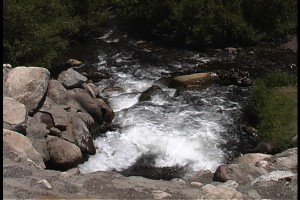 Things look pretty good for Mammoth right now. Water District staff said that August irrigation water demand did go back to normal after significantly lower water use in June and slightly reduced demand in July, compared to past years. Staff said that the reduced water demand did help the water tables to recover and allowed the District to use water from Lake Mary for most of the summer instead of use of groundwater pumps. The level of Mammoth Creek stayed relatively high, too.
District officials pointed out that the water quality of Lake Mary is the highest source available to Mammoth, so reduced outdoor watering directly contributed to high quality drinkable water for the town. Officials decided that public awareness would go a long way to reduction of outdoor irrigation and an important water savings.
One other note from the last meeting. Water officials approved and signed an agreement with the Mono Search and Rescue organization to lease part of the District's property. Search and Rescue will construct a building to conduct meetings and training classes as well as store equipment and vehicles used for search and rescue operations.