Sometime in the past week, someone covered a wall at the old La Sierra Restaurant with graffiti. Mammoth Police took the report on this highly visible act of vandalism last week, and now say that the La Sierra incident could be part of a larger pattern.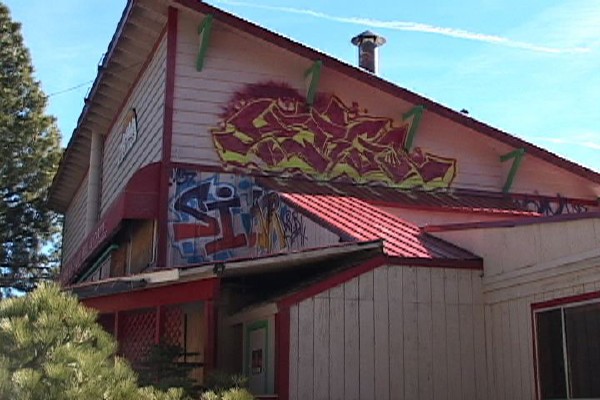 With stickers on many signs in town, graffiti is hardly new to Mammoth. Officer Luke Schwarzkopf with the Mammoth Police explained that the brightly colored lettering at La Sierra is the first that is this elaborate. Schwarzkopf also says that there have been other graffiti incidents in recent weeks that could be related. Graffiti on a utility box near the Sierra Star golf course and the concrete spillway on the outskirts of town could be related.
Graffiti can often be gang related, Officer Schwarzkopf says that this graffiti appears to be taggers out to gain notoriety. A tagger may see themselves as a guerilla artist, but the law has different view. Taggers often have a signature on their graffiti. Officer Schwarzkopf explained that Police have caught taggers in the past who were then sentenced to jail time, community service, and fines.