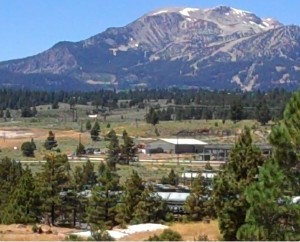 Earlier this month, Ormat Technologies revealed that they had purchased the interest of a partner, giving them 100% ownership of Mammoth Pacific Geothermal. Now, the company says that they will pursue plans to explore for more geothermal resources.
In a press release, the company says that Mammoth Pacific will drill two exploratory wells about a half mile north of Mammoth near Shady Rest Park. The project will start this month. Officials said that the environmental analysis and permitting for the two wells were completed in 2005.
That process involved both the BLM and Forest Service. The BLM processes the geothermal leases and permits and the Forest Service manages the land. Geothermal officials said that access to their drill sites will be the Sawmill cutoff road. They added that they will make every effort to avoid conflicts with other users of the area.
Earlier, Paul Thomsen, Ormat Director of Policy and Business Development, said that the company wants to double the power generation at the Mammoth Plant from 29 megawatts to nearly 60 megawatts.