After a paperwork malfunction stalled the project, the Mammoth Fire Department has resumed work to reduce the fire threat near the Valentine Reserve. Crews are back out on the ground piling up slash to be put into a wood chipper and spread back out onto the ground.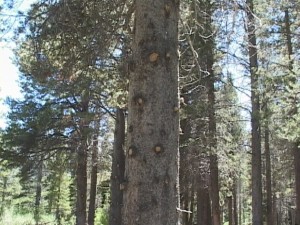 The fire department did not have a commercial harvest permit for this project to clear eight acres of forest and work came to a halt. Fire fighters got around the paperwork glitch by having the forest products contractor chop the cut trees into firewood and donate the wood to IMACA.
Mammoth Fire Captain Robert Williams says that before the project started you couldnt see twenty or thirty feet between the trees. Now you can see almost the entire eight acres weve thinned. Besides fire protection, the fire fighter says that the increase in sunlight is healthier for the trees and wildlife.
This project, the first that Mammoth Fire has undertaken, is slated to clear about eight acres near Mammoth Creek, but there is a lot more work to be done. Williams says that the Mammoth Fire Department is working with the Forest Service and BLM to get money and help to continue fuel modification around town. There is a lot of work to be done. Its not going to be done overnight, he says.
The work could also be continuous. Captain Williams says that the fuels reduction efforts could be like painting the Golden Gate Bridge. As soon as the painters get to one side, they turn around and head back to the other side.