Press releases
MAMMOTH LAKES, CA- Invisible Fence® Brand of Knoxville, Tenn, a company that has donated more than 11,500 pet oxygen masks to fire departments and first responders, has donated a pet oxygen mask kit to Mammoth Lakes Fire Protection District.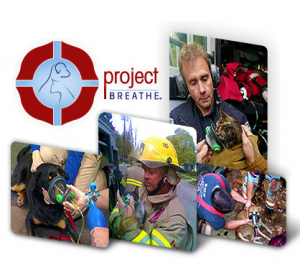 The donation was provided by the Invisible Fence of California dealership, based out of Encinitas, CA. This donation is just a small part of Invisible Fence® Brand's Project Breathe™ program, which was established with the goal of equipping every fire station in America and Canada with pet oxygen masks. These masks allow firefighters to give oxygen to pets who are suffering from smoke inhalation when they are rescued from fires and often save pets' lives.
MLFPD previously used a similar system to revive a dog at a fire scene several years ago. Fire Chief Frank Frievalt stated "Pets are just like family; material objects can be replaced, but lives cannot, whether they are people or pets".
It is estimated that 40,000 to 150,000 pets die each year in fires, most succumbing to smoke inhalation. In most cases, the equipment needed to revive the pets is not carried on the first responding apparatus. The loss of a family pet can be horrible for the family and heart wrenching for the firefighters.
MLFPD 2016 Firefighter Academy
Mammoth Lakes Fire Protection District (MLFPD) is actively seeking candidates for its 2016 Firefighter Academy. MLFPD is a combination department, meaning that a large portion of the department's ability to respond on incidents is dependent on its part-time and paid-per-call staff.
The academy offers individuals the opportunity to serve their community while learning the skills of an All-Risk Firefighter. Completion of the Academy enables the recruit the ability to work towards a part-time Firefighter position, or to serve as a paid-per-call firefighter.
Benefits include competitive pay, retirement program, life insurance eligibility, and flexible work hours. Academy details can be found at www.mlfd.ca.gov or just stop by Fire Station #1 at 3150 Main Street. For more information, interested individuals should attend:
Academy Candidate Dinner – 6:15 pm – November 5th or 12th 2015,
MLFD Fire Station 1
3150 Main Street
Please help protect the Town of Mammoth Lakes and forward this information to anyone you believe would be a good candidate.