A call that initially reported a room fire at the Westin Hotel in Mammoth Lakes brought dozens of firefighters to that location.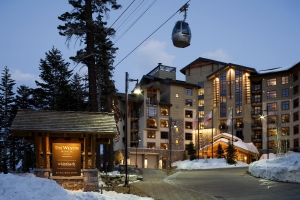 They found heavy smoke on three floors and after a lot of work discovered that an overheated boiler flue pipe had caused all of the smoke. No one was hurt.
The Hotel did close down after that incident Wednesday afternoon. The Westin had evacuated everyone. Mammoth Fire Chief Brent Harper said that a total of 34 Mammoth firefighters had responded along with three engines, two trucks and an ambulance. Long Valley and June Lake Fire Departments rushed to town to back-up Mammoth. Police and paramedics directed traffic and stood by to help.
No one was injured. Officials said there was extensive damage to the flue pipe which came from the boilers in the hotel basement. Chief Harper said that heavy smoke filled floors 4, 5 and 6 with light smoke on 7. The Chief said insulation in the flue was burning and caused the smoke which went up through the chase or channel that carries heat. Chief Harper said it is unknown why the boilers overheated. He said that was under investigation.
Westin General Manager Brent Truax said the hotel was closed today for evaluation but was expected to re-open soon.