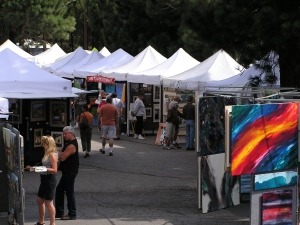 Mammoth Lakes Fine Arts & Crafts Festival Celebrates its 40th Year
August 3-5, 2012
Mammoth Lakes, Calif. — Mammoth Lakes will be brimming with activity as the 40th Annual Mammoth Lakes Fine Arts and Crafts Festival comes to town the weekend of Friday, August 3 through Sunday, August 5, 2012. The free event, which runs from 10 a.m. to 5 p.m. each day, will give attendees the opportunity to meet with talented artists and artisans from throughout the western United States and surrounding states as they present their original works against the majestic background of the Sierra Nevada mountains.
The 40th Annual Mammoth Lakes Fine Arts & Crafts Festival takes place on the grounds of Kittredge Sports, at the corner of Highway 203 (Main Street) and Forest Trail in Mammoth Lakes. On display will be a wide variety of arts and crafts including photography,watercolor and oil paintings, ceramics, jewelry, woodwork and much more.
Among this year's featured artists is Mammoth Lakes resident Vern Clevenger who has lived and worked in the Sierra Nevada for over thirty years. He is a world-class rock climber, a mountaineer and an avid skier and hiker and has captured his love of the Sierra's through his color photography of canyons, lakes and mountain vistas. Vern's photographs capture his adventures along with the beauty of the area, and can be found on display throughout the town of Mammoth Lakes.
Artist Jeff Skelly of Sunland California has developed his personal style of painting, fusing impressionist color with more subtle tonal variations of the old masters to create original landscape and figure paintings in oil. "As a child, my most memorable experiences in nature were on trips to the Eastern Sierra Nevada," says Jeff. "The vast landscapes, towering mountain peaks, and stunning natural beauty left lasting impressions."
Glass artist Ed Broadfield of Oceanside, California creates a line of elegant vases, delightful bowls and surreal paperweights. A self-described "glassaholic," Ed's background as a metal fabricator inspires geometry in all of the free-flowing sensual pieces he creates, resulting in distinctive, colorful glass art. He's also a traveling glassblowing instructor who teaches workshops throughout the western UnitedStates and as far away as Thailand.
Additional artists participating in the Mammoth Lakes Fine Arts and Crafts Festival include watercolor artist Robert Fleming of Indio,California showing his portraits of desert landscapes and desert animals; Soni Bergman of Menlo Park with her jewelry that combines traditional and contemporary materials and techniques; and Dan Mingori of Bishop showcasing his outdoor photography.
For more information, contact Kittredge Sports at (760) 934-7566 or Pacific Fine Arts Festivals at (209) 267-4394 or www.pacificfinearts.com. You can also see more information on Facebook at http://www.facebook.com/PacificFineArts and on Twitter @PacificFineArts.