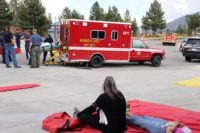 August 11, 2022 – The Mammoth Lakes Police Department, in partnership with the Inland Training Division of the California Highway Patrol, conducted a multi-agency Active Shooter/Tactical Casualty Care training exercise on August 2-3, 2022, at Mammoth Elementary School.
This exercise focused on emergency response to an active shooter incident on campus and how to best collaborate and respond to this scenario with local and state emergency responders. A simulation of the law enforcement response to an active shooter helps to assure a coordinated, timely and effective response.
This training is presented to participants as "realistic as possible" to ensure that first responders have the same knowledge and tactics of how to handle an active shooter. This included simulated gunfire, full classrooms and volunteers running through the hallways. After the shooter was secured by law enforcement in each scenario, role players were evacuated out of the school and attended to by the medical triage unit. Patients were even transported, by ambulance, to Mammoth Hospital who then conducted an exercise on receiving multiple patients.
Training with other agencies in this life-like scenario offers invaluable experience and lasting partnerships.  Agencies who participated in the exercise included the California Highway Patrol, Mono County Sheriff's Office, Mono County District Attorney, Mammoth Lakes Fire Department, Long Valley Fire Department, Inyo County Probation, California Department of Fish and Wildlife, USFS Inyo National Forest Law Enforcement, Mono County Paramedics, Mammoth Hospital, MLPD/MSCO Explorers, Mammoth Unified School District Staff and many volunteer community members.
A huge thank you to all involved for making this training such a success.
If you would like to learn more about how to respond if you find yourself in an active shooter situation, please visit: www.alicetraining.com.